How To Pack for Summer Camp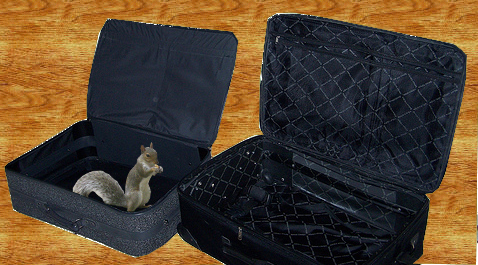 The key to having a successful luggage-packing experience is time. Leave yourself enough time to do it right. In other words, DO NOT FOLLOW MY EXAMPLE. In fact, if you've landed on this site from a Google search of 'How To Pack Correctly' then you're definitely in the wrong place. On the other hand, remember those graphic and gory auto accident pictures and films they used to show us in Driver Education? Well this post could be used in much the same way…an example of how NOT to do it.
Last year as I packed the kids for their two-week summer camp I didn't begin until a few hours before we were set to leave. Needless to say it was a complete disaster. So this year I began the process much earlier. A couple of weeks ago I dragged the suitcases from the garage, emptied the leaves, twigs, and squirrels, and then set them with the tops open on the floor. Boy it sure felt nice to get an early start for a change. Unfortunately, due to my Chronic Procrastination Disorder (CPD) it is now 36 hours before we leave and the suitcases are still empty.
In summary, step one to having a successful packing experience is to not dawdle or delay. Unless you've been diagnosed with CPD, in which case you've come to realize that there's really no point in worrying or planning ahead. You're only going to do it at the last minute anyway, and the first step to overcoming a problem is to admit you have a problem. So take a break. Let's not force things. Just one step at a time.