HELP! MY ANGRY TEEN IS AN 11-YEAR-OLD!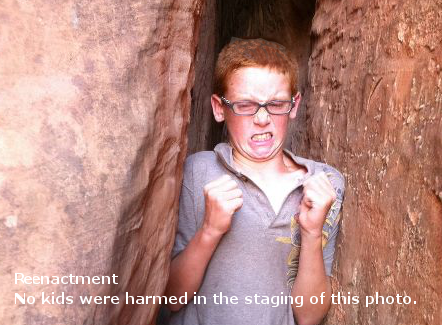 You've gotta love kids. Unless they're teenagers, then it should be optional. My 11 year old son–who considers himself a teenager–is eating us out of house and home. He begins his day with food, and he ends his day with food, with a lot of food in between.
The only redeeming aspect is that it's not all junk food. For example, yesterday he ate 2 bowls of corn flakes, 2 apples, 2 pizza pockets, 1 quesadilla, 2 eggs, toast, and a quart of milk. For breakfast. That's not to say he doesn't ever eat junk food because he gets his fair share of that too. Be it vegetables, Slurpees, or nuts and berries he doesn't discriminate. Just as long as there's plenty of it.
He's a very active kid–karate, soccer, basketball, checkers–but we're trying to teach him that he can't keep eating all day long. He's skinny as a rail but as he gets older and leaves home his metabolism will change. So we're working on it.
Speaking of leaving home, today he had a typical teenager meltdown. He wants his own room. He doesn't want to do his homework. He wants to stay up late. He has the worst parents in the world. He was really laying it on thick. As his anger built, our parenting skills were put to the test. But the more we said the angrier he got. But then, just as he threatened to move out and get new parents, something happened. Mid sentence–in fact, mid glottal stop–he said, "I'm hungry. I wonder if there's something in the fridge." And then as sure as a union worker taking a coffee break, he walked into the kitchen and happily fixed himself a sandwich.
Am I the only parent who goes through this?
11 responses to "HELP! MY ANGRY TEEN IS AN 11-YEAR-OLD!"