IT'S TIME TO SKI!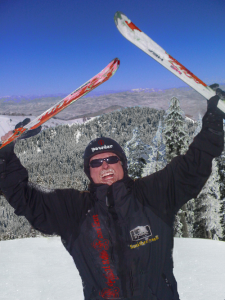 I was reminiscing with friends recently about the way things were when we were young as compared to what our own kids experience today. Rotary phones, typewriters, and riding in the back of pickup trucks are all things of the past. Sadly, today's kids will never know the joys of when disco was new, mullets were cool, and Neil Patrick Harris was an emerging child actor. Not to mention the fact that we walked to school in waist-deep snow, uphill both ways, and often in bare feet. We all had a good laugh and acknowledged that, if there was ever any doubt, this conversation officially made us 'old men.'
A few days later I found myself riding a chairlift at Solitude Mountain Resort when I noticed yet another way things have changed—My kids will never experience the noggin-numbing wait of a long lift line. For them standing in a 10-minute lift line can turn a day from epic to bummer (and these days 10 minutes is a long wait at many resorts). They have no idea that back in the day 30- or 45-minute lines were not uncommon, and a short 10-minute lift line was worth calling home about (although we didn't have cell phones so we'd have to trudge back to the lodge and spend a dime to use the payphone).
Now, not only are the lines shorter but the travel time to the top of the lift is faster as well.  What used to be a 20-minute or more journey has been reduced to 10 minutes or less. And don't forget the number of people that fit on a chair. We once had an entire family reunion on one single lift chair. Really.
What it all comes down to is a lot less time waiting and a lot more time skiing. I don't have official statistics, but I suspect the time we can now spend skiing has almost doubled from back in the day. At least I hope that's the case. Otherwise why would my aching body be finished for the day by the time we break for lunch?
One response to "IT'S TIME TO SKI!"